Exact Calibration specializes in aftermarket calibration & certification services for the Hexagon M.I.™/ formerly Hexagon Metrology™ Leitz and Brown&Sharpe™ and DEA Coordinate Measuring Machine (CMM) brand.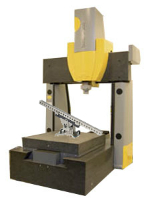 We also offer CMM repair services, when needed, to meet the OEM specifications. Maintenance contracts are also available.
---
In order to achieve the highest accuracy of your system and maximize its productivity, it is highly recommend that your Coordinate Measuring Machine should only be serviced by factory/OEM trained engineers with at least 10 years of CMM service experience, as it is highly critical to have a full understanding of the correlation of the Six Degrees of Freedom.
---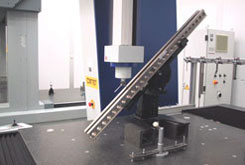 ---
Nationwide Calibration Services are offered for these Hexagon M.I.™/ Hexagon Metrology™ Leitz and former Brown&Sharpe® CMM Models, that utilize Quindos™ or PC-DMIS™ measuring software:
PMM-C/ PMM:

PMM-G Gantry:

PMM-F:

Global

®

Reference:

Cygnus X:

–

all sizes

–

all sizes

–

all sizes

–

 all sizes

–

all sizes
---
Calibrations/Certifications are performed in accordance with Industry and ISO Standards:
ISO 17025

ISO 10360

ASME B89 4.1

VDI/VDE 2617
Calibrations and certifications of your company's CMM include a detailed calibration report with "before" and "after" adjustment information and traceability to NIST and NPL.
---
Calibration equipment utilized for CMM calibrations is of the highest quality, with extremely low measurement uncertainties:
Kolb and Baumann (KOBA) Germany ultra high precision Step Gages

Agilent USA Laser Interferometers

Wyler Switzerland Ultra High Precision Levels
---
Don't just assume you are always getting a guaranteed highly qualified technician, even if the OEM is currently servicing your CMM. Familiarize yourself with CMM calibrations and their standards.
Ask your current service technician about their experience, the calibration process in detail, measurement uncertainty components and calibration equipment history/stability. A CMM has 21 geometrical errors. (See Six Degrees of Freedom). Does the service technician have the knowledge to verify and adjust position, pitch, yaw, roll and straightness errors? What about precise temperature monitoring, which can critically affect the calibration results?
---
We always optimize the CMM accuracy during the calibration process and usually achieve better results, compared to prior CMM calibrations, including OEM calibrations.
To see some actual customer testimonials from 2002-2018, please visit  About Us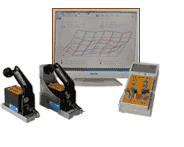 If you are not familiar with CMM calibrations and the standards, we would be more than happy to answer any questions you might have.  Contact Us
---
CMM Calibration Examples – Before Adjustment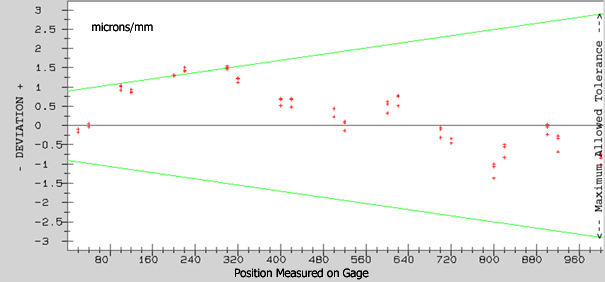 Example – Before Correction: Measured on 1000mm KOBA step gage, steps measured at 40mm increments. Range between upper and lower green Lines indicates maximum OEM allowed tolerance range (in microns),center line indicates absolute 0 deviation. Maximum allowed tolerance range is 0.9+L/500 (+/- 2.9 microns at distance of 1000mm). Red dots show the measured positions on the step gage, points lie within +1.5 microns and -1.2 microns, some of the measured positions exceed the maximum allowed tolerance.
---
CMM Calibration Examples – After Adjustment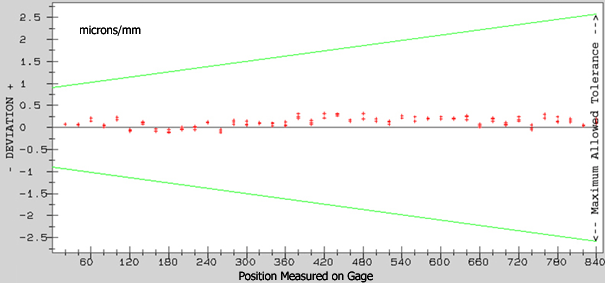 Example – After Correction: Verified on 1000mm step gage now at 20mm increments to include possible Probehead offset error. All points lie within +0.30 microns and -0.15 microns. Our service engineer was able to adjust the CMM geometry to utilize less than
25% of the maximum OEM allowed tolerance.
---
2001-2018 Exact Calibration Inc. All rights reserved. Exact Calibration is NOT an affiliate of the HxGN™/Hexagon Manufacturing
Intelligence™/Hexagon Metrology™ Group. Brown & Sharpe, Leitz, DEA, PC-DMIS and Quindos names and logos are trademarks
or registered trademarks of their respective holders
---